Behind These Masks We Renegade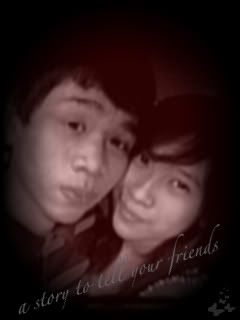 Create your own Friend Test here
Monday, May 18, 2009, 4:57 AM
Siti/Hammy/Chitty/Cheetszxxz/Santi/Hamster has moved.

Because stalkerish personalities are creepy and are not welcomed.

My affections are not won by competing for it. Cause I won't care who gave me the best presents or the best meals.

I AM NOT A PRIZE TO BE WON!




it was good until you went on an overhaul. You even freaked my mother out!

And then you didn't wanna be friend anymore, blocked me from everything even after I told you not to. You did anyway.

I'M DISPOSABLE NOW?

No wait, it's more of recyclable. take me back when you feel that you need me, and chuck me aside for awhile cause you cannot take, then repeat. IT'S THAT CONVENIENT.

Then you went back and started talking to me again. Unblocked me from everything and you still wonder why I'm mad? SERIOUSLYY!!! "I had my reasons for doing so". like duh! What am I? A child?

kalau da ludah, takmu nak jilat balik ah. You've disregarded me as a friend even if it was that spur of an emo moment. boleh blah ah!

Ask me personally for my url.

p.s
Nothing was ever broken so it doesn't need any fixing.
Sunday, May 10, 2009, 11:35 PM


whatever. bleargh.

I sincerely wish, for the sanity of everyone involved, that you people would just move on.
If you dearly must mention them, please do so where the world don't see it.


from today onwards, I don't exist. AT ALL.
time to permanently move to eljay .
, 2:32 AM
Meet my cousin's new born baby! The 2month old Adam Razaki-

seriously, I think my cousins have a flare of naming their kids. It's nothing fancy but it sounds good and it has a great meaning. OKAY LAH, i just hate minahs and mats who dunno how to name their children.






Asked Taufiq along for the gathering (: I was so happy that he could make it. I mean, he's just so shy. And he didn't disappoint my baby cousin Aini- you know, I like the name suddenly.it also means 'love you' in chinoneh! lulz- who was all over him. She is so mentel beyond comparison.

skank seh.
Okay, joke.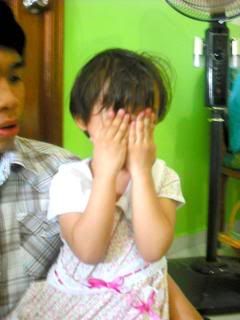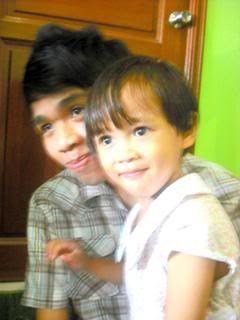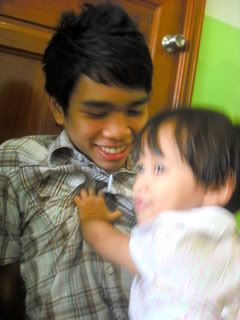 Aini made him do this for half million times. I swear, the girl's probably ADHD or sth like that. She cannot sit still at all!



Durrah Hannah is so cute. She was babbling about whatever and her mother just entertains her like as if she understood.





Omg, I just love all the miniloves in the family. Too bad the twins weren't around. I'm guessing it would be epic to have them there.

After that, we left the house and went to have dinner with Taufiq's family. I'll add the photos once they are uploaded. (:

after that- yes the night didn't end at 10pm darling- I went over to meet my lepak gang. JAN WAS OUT FOR THE NIGHT, i've missed him. and I realised that he had missed a few episodes in my life. ((:

He's gonna book in today i reckon. )): another week without lepak session is pretty depressing.





Melancholic (Earth)


You put great value in family and organization and

the order of how things should be done

. You are loyal and take pride in being a dependable person. You are

careful to be fair and just

in everything you do, but because of your care, some people may perceive you as strict or picky rather than the real you that is careful and discriminate. An Affirmation for you would be: I will... Harnass the capacity to link, nurture, and sustain. Balance my devotion to my relationships with solitude and self-expression Develop self-reliance as well as build community.
Saturday, May 09, 2009, 1:54 AM


sitihamidah has officially lost it.
she fuckin lost it.
she somehow has lost track of time in spite of having a watch.
Lost track of what day it is
despite the fact that she has a calendar, an organizer and whatever else that tells you the days.
now she's on panic mode
cause nothing is in her control.
yes every thing is not in control.


I CANNOT STAND IT

I must get a grip.
and slowly pick up the days I've messed up in one way or another.
Snap back into reality
and of course
get everything in order.


no. i'm not okay.
how can I be okay when nothing is going how I plan it to go.
OMG

i cant stand myself. i feel like crying. urgh
I wish i was more laid back.
Thursday, May 07, 2009, 4:17 PM
skinny bitches


I cannot stand Taylor Momsen (yup, that's her alright). Not only is she freakin' juvenile (she's barely 16?), she stands at a staggering 169cm and weighs only 108 pounds or 48kilograms. I've recently checked the scale, and found out that I weight 46kg, but I look nothing like that woman!




Michelle Trachtenberg is gorgeous. I love her pale white skin and her big blue eyes and her big wide mouth, that probably can stuff more than two whatevers you can think of. ANYWAYS, I hate life. WHY CAN'T I LOOK LIKE THAT? CB.


Lose weight.
Get stronger.
Grow hair longer.
Get it smoothened for fuck's sake.
Get whitening cleanser, moisturizer and toner with SPF100 if that's even possible, cause apparently you ran out of them.
Wednesday, May 06, 2009, 3:23 PM


I have school later and I have no cash on me at all.
I think I want to skip class today since that's the case.



CAN EVERYONE STOP USING THE WORD "SWINE" LIKE AS IF YOU'VE LEARNT IT FUCKING YESTERDAY? DON'T YOU PEOPLE EVER FUCKING READ?





OUH WOW, SWINE, WHAT A COOL WORD TO CALL SOMEONE A PIG.





HERE'S ANOTHER ONE YOU, STUPID CUNTS;





PORCINE.





SEE. DON'T FEEL A LITTLE BIT MORE INTELLIGENT NOW??




none of you deserve to breathe the air that i breathe!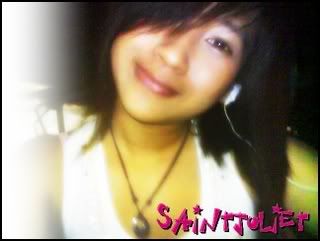 sitihamidah
mail me: CHEERDANCEFLY@GMAIL.COM
010590




alya
azmi
hadzah
yunus
jan
wendy
liyana
michael
clarence
nadiah
khairul anshar
towkoon
hakim
harlis
pamela
sohvil
ashley koh



+ Siti/Hammy/Chitty/Cheetszxxz/Santi/Hamster has mov...
+ whatever. bleargh. I sincerely wish, for the sa...
+ Meet my cousin's new born baby! The 2month old Ada...
+ sitihamidah has officially lost it. she fuckin l...
+ skinny bitches I cannot stand Taylor Momsen (yu...
+ I have school later and I have no cash on me at ...
+ and if I last through the winter I swear to you no...
+ where ever you go Give me time to think about y...
+ about a boy There's not a single pretentious b...
+ aurora Razin and I were exchanging comments abo...


+ April 2006
+ May 2006
+ June 2006
+ July 2006
+ August 2006
+ September 2006
+ October 2006
+ November 2006
+ December 2006
+ January 2007
+ February 2007
+ March 2007
+ April 2007
+ May 2007
+ June 2007
+ July 2007
+ August 2007
+ September 2007
+ October 2007
+ November 2007
+ December 2007
+ January 2008
+ February 2008
+ March 2008
+ April 2008
+ May 2008
+ June 2008
+ July 2008
+ August 2008
+ September 2008
+ October 2008
+ November 2008
+ December 2008
+ January 2009
+ February 2009
+ March 2009
+ April 2009
+ May 2009


A accidentality productions
Inspiration from DancingSheep & BONBON:D